---
General Gymnastics Classes
There will be up to 24 children in these classes and children will be divided into groups of 8 according to their ability. They will work on Floor & Vault most weeks and will also alternate between Bars & Beam.. They will work towards the British Gymnastics Proficiency Award Scheme and the Advanced Proficiency Scheme. They will also learn the British Gymnastics Key Steps Routines depending on their school year. They will learn core skills depending on their ability, such as rolls, handstands, cartwheels and progressing towards walkovers, handsprings and flips. They will have the chance to display the routines that they learn and compete against other children on the same award at least once a year. The class is 55 minutes
4 & 5 yrs Classes
These are 45 minutes classes which provide a good bridge between Pre-school classes and slightly more structured General classes. The emphasis will be on keeping the children active throughout by setting up circuits of activities incorporating progressions towards more difficult gymnastics move. In a fun environment, children will become familiar with the gym and will be building up core strength and skill and confidence without even knowing it!
Boy's Class
Having taught gymnastics for many years, we have learned that boys respond to a slightly different syllabus than girls. Therefore we have created a class just for boys on a Wednesday at 5.45. Skills will focus more on Vaulting and Floor skills (including Tumbling) and less time on Bars and Beam. The class is 55 minutes
Monday 7.15 to 8.15 at London Road - Gym Plus: Aged 9 plus
This class is a very social one and is aimed at those children who we feel would benefit from being in a class with similar aged, older children. This class will focus on tumbling skills such as round-offs and handsprings, as well incorporating bars, beam and vault to improve core strength and progression exercises. This class is open to all current members who are 9 years and over.
Stortford Gymnastics' Satellite Club
The Stortford Gymnastics' Satellite Club classes at Herts All Stars Cheerleading Club, Church End will be on a Thursday night from Sept 2018. Amy Barber and her team moved here from Hatfield 6 months ago and it is going from strength to strength. They are an extremely welcoming and friendly club and we are thrilled to be linking with them for the benefit of both our clubs.
The classes that will be available in Church End, SG11 2DY are as follows:

Thursday 4.15 - 6.10pm Competitive Tumbling (All Ages – by invitation only)

Thursday 6.15 - 7.10 pm Tumbling for All: Aged 9 plus
This class will concentrate on floor gymnastics skills performed in quick succession along a line. The new facility has an air track and an abundance of crash mats. And high ceilings! We are excited to see what our older gymnasts can achieve in this new purpose-built venue.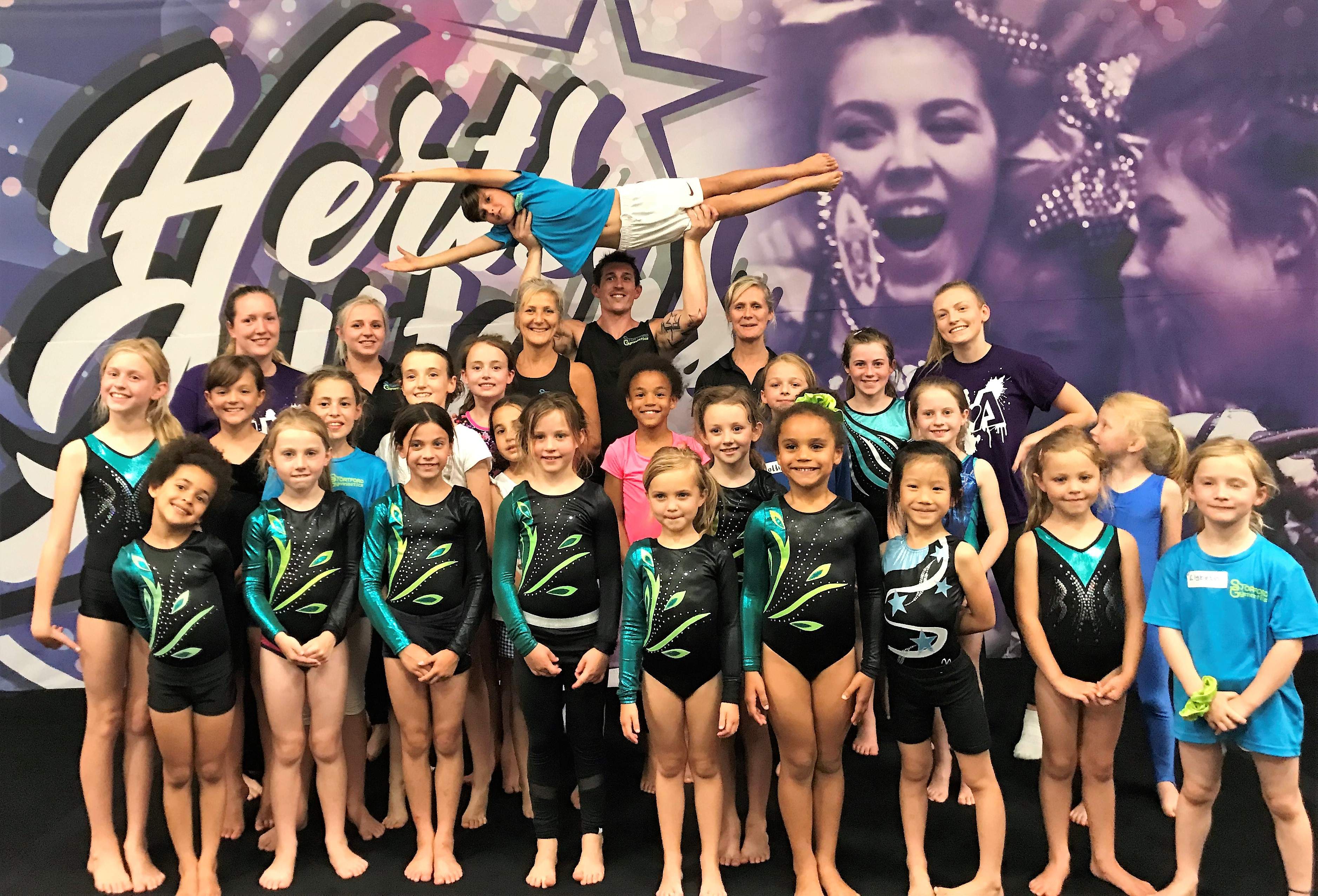 Thursday 7.15 - 8.10 pm Gym Fest: Aged 9 plus
This class will be designed to create routines to music to display our gymnastics skills. It will involve some Acro Gymnastics (group balances), choreography and Tumbling. Amy or Charlotte from Herts All Stars will be one of the coaches in these sessions to help us create some fun routines on their large sprung floor.
Pre-School Courageous Cats : Adult and Child aged 18 months to 3 years
This is a 45-minute session where adults and child come into the gym together. There will be at least one qualified coach who will introduce the group with songs and a warm up encouraging the use of hand apparatus such as bean bags, quoits and pom poms to help develop fine motor skills. For much of the lesson, the children are free to explore the main apparatus in the gym under your supervision. Ideas will be provided by the qualified coach to help your child develop their gross motor skills further. The session will finish as a group with familiar nursery rhymes. There will be up to 18 children in the class.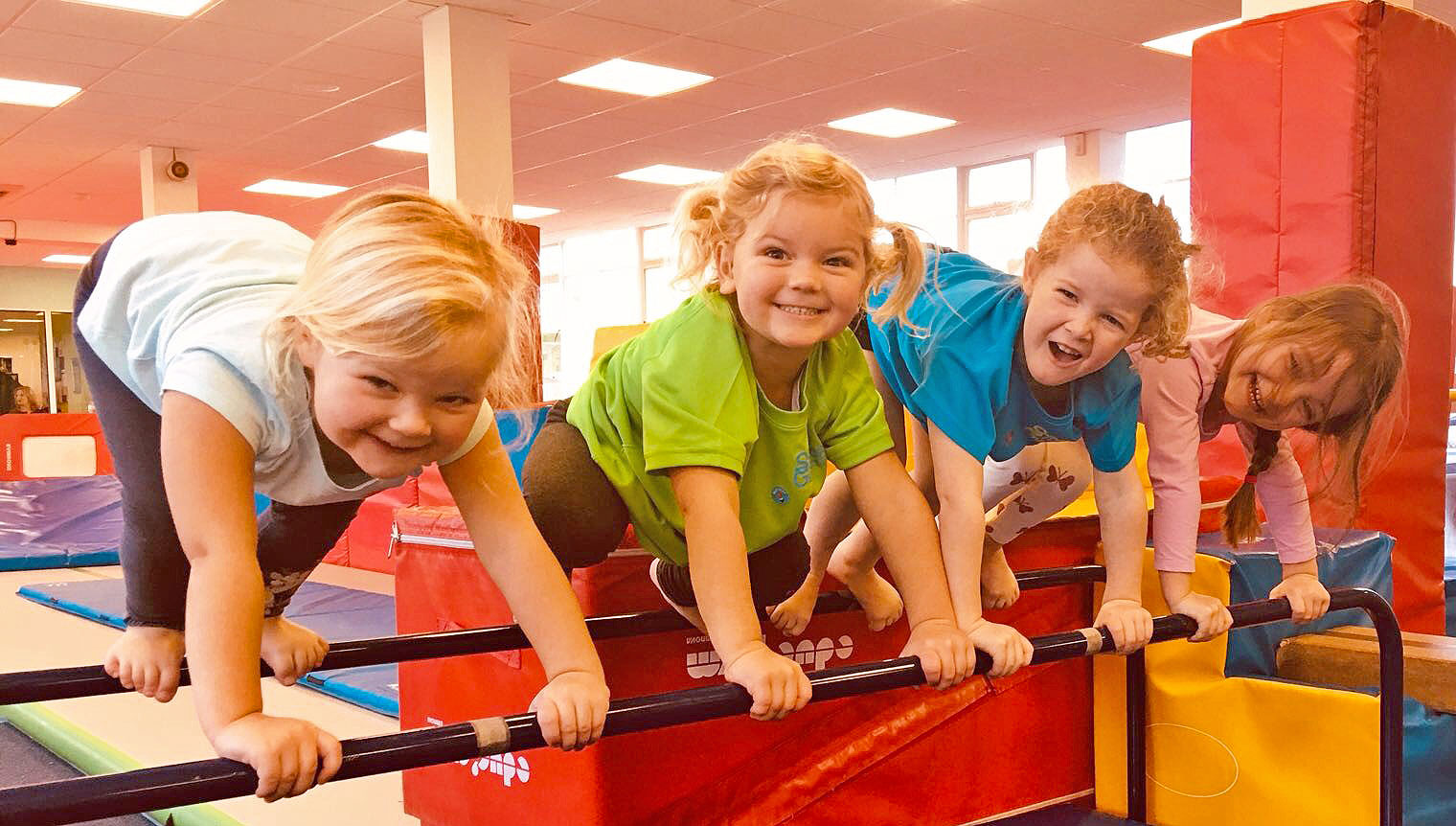 Pre-School Leaping Lions: Aged 3&4
This is a 45-minute class for children aged from 3 until they start Reception, and is the first opportunity for them to be in the gym on their own. There will be up to 21 children in the class, depending on the number of gymnasts per class will depend on the coach ratio. Up to 16 gymnasts is at least 2 qualified coaches, up to 21 gymnasts is 3 qualified coaches. Where possible, we also aim to provide a non-qualified helper in all our Pre-School classes.
All sessions will have a theme which will be introduced during the group warm-up. One week, the theme may be sports; the children will be 'surfing' on the beam, another week they may be at the circus balancing on the 'tight rope!'
For much of the lesson, the children will work in small groups. Each activity will be designed to help them develop a particular gymnastic skill e.g. forward roll, handstand. We will encourage the children to keep active throughout the session with ribbons, hoops and other hand apparatus designed to develop their fine motor skills further.
The children will have the opportunity to work towards the British Gymnastics Pre-School ABC Awards.
We have a fantastic, highly qualified team of Pre-School Coaches, who are extremely warm and welcoming to the children and will ensure they all have a fabulous time!
Further Information
We teach many children every week and try, where possible, to spot if a child is not in an appropriate class/group (either they are struggling to keep up or their potential is not being fulfilled). However please feel free to talk to one of the coaches in the session if you are unhappy with the class/group that your child is in and we will do what we can to help (although, please be aware that moving them may not always be possible if other classes are full).